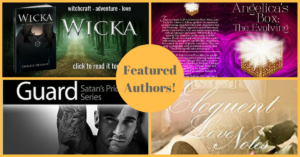 I was thrilled to be interviewed for the feature article: "What Makes a Romance Novel Irresistible? In Celebration of Valentine's Day, Find Out As 5 Romance Authors Share Their Juiciest Secrets ♥" –  a special edition for Valentine's Day, 2017. The article was featured on a number of news media including: Fox 8 Live, NBC 12 News,Hometown Stations (ABC, Fox, NBC, CBS), CrossRoads Today News Center, KFVS, WMC Action News 5, ABC 6, NBC Right Now & more! Myself and 4 other authors were asked to share the ingredients that make a romance novel irresistible.
I spoke about how my books are about women who have loved and lost, so need a man who is strong enough to let the women feel safe to be themselves.
…read the full romance novel news release.
~A.G. Kirkham